Online Advertising Opportunities with Foods' Healing Power
Online advertising is rapidly becoming the best way to get the most exposure to a very motivated and targeted audience.

Compare it with advertising on a highway billboard or a magazine, for example. Thousands of people will see it but most of them couldn't care less about your product.

People who come to this website, on the other hand, are already interested in nutrition and healing foods and are much more likely to click on the well-placed adverts they see here.

Also, compared to other forms of ads that reach thousand of people, online advertising is very affordable.

You can use the power of the Web to target rapidly growing online markets without spending a lot of money on one-off media advertising.
Why Advertise on Foods' Healing Power?



Our Foods' Healing Power website offers unique, well priced, custom-designed and targeted advertising as well as sponsoring opportunities that can increase your visibility on the rapidly growing nutrition market.

Would you like people from around the world to find YOUR Business? Have a look at our statistics and charges to see if placing an advertisement here is appropriate for YOUR business.

Last month (September '12) over 44,000 people enjoyed reading over 73,000 pages on this site and I'm really stunned at the rapid growth of such a young website! Foods' Healing Power is growing bigger and better every month!
Jan 2013 up-date: 61,000 visitors and 101,000 pages.




About Foods' Healing Power Website
I would like to point out the this is not a "commercial" website. It was started in 2010 out of a desire to provide the best and most updated information to everyone interested in reading about healing foods without charging any money.
But what started as a hobby soon became much bigger than I anticipated. So I soon realized that the only way to keep it free for all my visitors was to offer a few well chosen partners the opportunity to advertise on this site.

To my readers I will say that my determination is, and always will be, to never recommend a product that I don't completely agree with or don't sincerely believe will be helpful to you in some way. I won't even consider ads that would be confusing for you or offer conflicting information.

To potential advertisers I'll say that any online advertising is, of course, subject to approval and you'll find the most success if your ads offer something of value to an audience whose prime concern is to improve their health through the power of healing foods.



Advertising Ideas and Options
Usually advertisers approach us with a very specific idea that they want to implement, however if you're looking for ideas on how to advertise on Foods' Healing Power please have a look at the options below.
In-Content Text Links
Choose one or more keywords throughout the site that appear within the content, and we'll directly link your website to these words. Or you can write a description of your site with the chosen link/s and we'll include it on the page of your choice.

In-content text links are extremely valuable and effective. Here is an example of an in-content text link. (This example will open in a new window so you can come back to this page. Your in-content text link will go directly to your page and no longer be attached to foods-healing-power.com.)

Banner and Buttons
All Banners and Buttons are usually provided by the advertiser and discounts are available for multiple ads. These ads can appear on individual pages or across categories.



A small Button measures 125x125px and is normally placed below the navigation bar on the left hand side (or otherwise specified) on the page(s) you like, depending on your advertising budget and needs.

A Skyscraper Banner (right) usually measures 120x600px. These vertical banners are placed along the right-hand side of a page on the extra column. 
A medium Button (left) measures 160x160px and is either placed on the right or left hand column on the page(s) of your choice.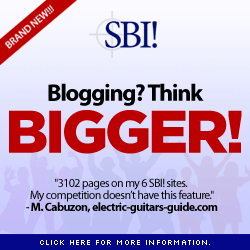 A large Ad (left) measures 250x250px and is normally placed on the centre column on the page(s) of your choice.
A Full Banner (below) measures 468x60px. This horizontal banner can be placed at the bottom of a page making it the last thing the page visitor will see before clicking off the page.



Image and Text Link With Write-Up
An interesting way to grab the attention of our site visitors. You provide a small graphic of your logo, product or other appropriate photo (maybe 160x160px), a 40-word (approximately) description of your business, product, or service, and the URL to your website, and we'll build the ad for you.


Do you have another idea or request? Feel free to approach me using the form below. I am willing to come up with a plan that will work for both of us.


---

Sponsorship


This is a bigger commitment on both sides but can yield the best results as you get exposure on Foods' Healing Power in a variety of ways.
Since this is not a commercial website, only a limited amount of sponsoships are available. Only companies that can truly benefit my readers and have an excellent product or service will be considered.

These ads will appear on most of Foods' Healing Power pages and will offer the highest view rates available on the site.

Also, if required, a full webpage can be dedicated to your business with a review of services and/or products.



For more information fill out the form below.



Pricing
Ad rates are based on...
ad type and size

chosen page/pages
location on a page ("above the fold" is more expensive than below)
the amount of traffic a page receives
value to the sponsor
Terms and Conditions
We are looking for valued advertisers who are wanting quality traffic and not trying to 'buy a link' to get better page rank with Google and search engines. So in compliance with Google's webmaster guidelines all advertiser links will include the rel="nofollow" attribute. Please, don't contact us if you don't like this idea.
Foods' Healing Power retains the sole right to decline any advertising and/or promotion that is deemed unsuitable for this site or of little interest to our site visitors.
All advertising and payment options are subject to availability.
No flash ads will be considered.
If, at any time, you are not satisfied with the services or response, we'll refund the balance of your payment and remove your ad.
Prices are subject to change upon renewal.

Payments are accepted only via PayPal (credit cards accepted, no account needed).
Both parties can cancel the agreement with 30 days notice.
Privacy Policy
We do not sell, exchange or otherwise disclose your contact information to anyone.

Interested?

For more information or a formal advertising quote, please fill out the form below.


---
Once we have agreed on a advertising package that suits us both, click on the button below.

---
Return to Foods' Healing Power Homepage from Online Advertising Opportunities
Search for information on this site: